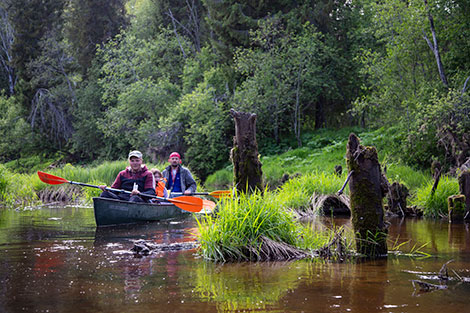 The forest river Viga is attractive with its water lilies, pine forests on steep banks, deep pools, sandy beaches, and the remains of watermills. If you go for the whole day, you will have time for a picnic by the fire, swimming, fishing or catching crayfish. It's possible to combine a canoe trip with an excursion to the terem in Pogorelovo – you will reach it by river.
Participants paddle along with a guide in 2 or 3 person canoes. Rowing skills are not required. The price includes transfers to the starting point and back to the Terem.
If you are planning a multi-day canoe trip, we will help you organize and plan it. Each river near us has its own charm: white water nymphs on the Vocha, taiga wilderness in the upper reaches of the Kostroma, and fast rapids on the Ida. You can ask us about these routes as well.

RENT A CANOE FOR THE WHOLE DAY